Discover more from CALEC Bulletin
Empowering Multilingual Families and Linguistic Communities through Education, Knowledge, Advocacy, and Publishing with TBR Books
Over 7,000 subscribers
Embracing Linguistic Diversity and the Bilingual Brain at the Festival du Livre de Paris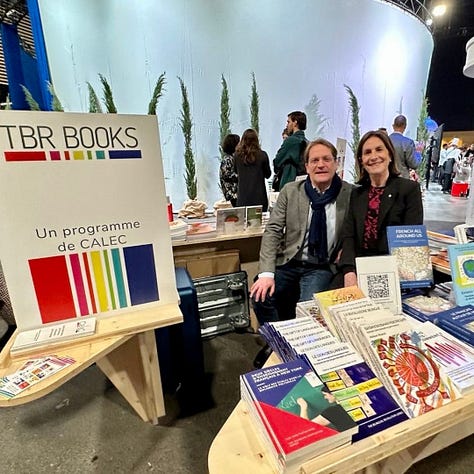 We were thrilled to see the response to our French and multilingual publications at the Festival du Livre de Paris. From bilingual education to cultural diversity, our books cover a wide array of topics aimed at promoting multilingualism, and they certainly seemed to strike a chord with the visitors. It was a pleasure to engage in thoughtful discussions and connect with fellow book lovers. We extend our heartfelt thanks to everyone who made the event a success! Read more.
News
The Cherokee Nation has opened a $20 million immersion facility where English becomes a foreign language. The Durbin Feeling Language Center will house 16 language programs and provide a cradle-to-grave language education program under one roof. With only about 2,000 people fluent in Cherokee, this is a critical step in preserving and revitalizing the language. Check out the article to learn more!

2023 Community-Based Heritage Language Schools Conference

Registration is now open for the 10th Annual Community-Based Heritage Language Schools Conference at American University in Washington, DC, on October 13 and 14, 2023. Don't miss this on-site and online event featuring amazing plenary speakers like Shuhan Wang, Felix Kronenberg, and Kristin Davin. Register and explore the conference details here.
Book Launch in Paris:
Bilingual Children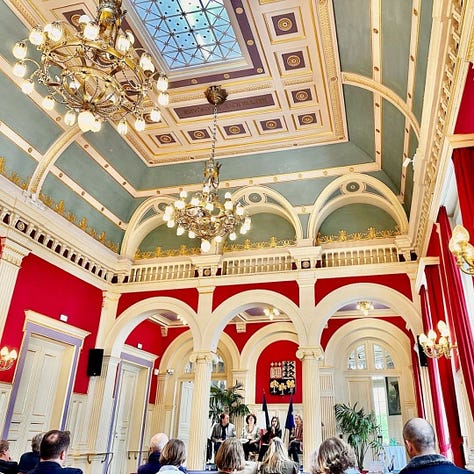 Last week in Paris, we celebrated the release of Ellen Bialystok's new book, Bilingual Children, with two insightful events! The first event was at the Paris Book Fair where Ellen Bialystok discussed her book and held a book signing. The second event was a discussion on bilingual education with experts Ellen Bialystok, Hélène Léone, and Fabrice Jaumont at the beautiful Salons of the Mairie in the 16th arrondissement. The events highlighted the importance of bilingual education and its benefits for children, families, and communities. You can learn more about it on this article: The Power of Bilingual Education: A Dialogue with Ellen Bialystok, Fabrice Jaumont, and Hélène Leone. Let's work together to promote and support bilingual education!
Book Highlight
Unveiling the power of bilingual education in Africa with the groundbreaking new book A Bilingual Revolution for Africa! Edited by Ayé Clarisse Hager-M'Boua and Fabrice Jaumont, this insightful read explores the potential of multilingual education across the continent, featuring contributions from educators, researchers, and experts in the field. Discover the benefits of dual-language education and its transformative impact on human development in Africa. Don't miss this must-read for anyone interested in language, education, and the future of Africa's diverse communities.
Call for Papers - Extended Deadline May 1st
Great news! Our Call for Papers deadline has been extended to May 1! Unlock the power of multilingualism and cultural fluency in the professional world! Share your expertise in a new book, Multilingualism and Cultural Fluency in the Professional World, exploring the opportunities and challenges of being multilingual in today's global workforce. Don't miss this chance to contribute and shape the future of multilingualism in the professional world! Learn more here.
Languages
Learn French Online

Frantastique delivers short, personalized and fun online French lessons.
Support our mission
The Center for the Advancement of Languages, Education, and Communities (CALEC) is a nonprofit organization based in the U.S. and France, and focused on promoting multilingualism, empowering multilingual families, and fostering cross-cultural understanding. Support us now!